Driven by the needs of various users such as professional athletes and exercise enthusiasts, the total shipments of global sports and fitness monitors will exceed 250 million in the next five years. According to a report by IMS Research, a subsidiary of IHS, shipments in 2017 will grow from 43.8 million in 2013 to 56.2 million. In these five years, the total shipments will reach 252 million.
Fitness monitoring is a big market, involving the world's well-known sports stars, fitness industry, clinical and military research fields, and the field of physical enhancement with chronic disease management and corporate health plans. Therefore, the top brands in the sporting goods industry have poured into this market, including Nike, Adidas and Under Armour. Even with the economic downturn, the fitness monitoring market continues to expand, indicating that the market's demand for this technology is quite resilient.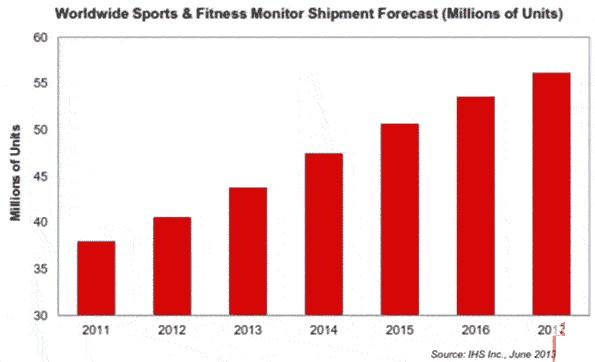 The fitness monitor market includes a variety of products, including fitness and heart rate monitors, sports and running computers, outdoor tracking computers, automatic car computers, activity monitors and pedometers. Heart rate monitors, activity monitors and pedometers, the most commonly used products, cost less than $ 200.
Cardiac monitoring
In terms of operating income, fitness and heart rate monitors are still the largest segment in the sports and fitness monitor market, accounting for 23% of the overall market in 2012. However, as the market for GPS-based monitors matures and the use of activity monitors increases, its share of the overall market is expected to drop to 19% by the end of 2017. In the five years to 2017, the compound annual growth rate of wrist-worn or finger-sensing heart rate monitors is expected to be 9.5%. These products will continue to target recuperative consumers who do not need chest straps to provide continuous monitoring.
Pedometer is still the biggest field
In terms of unit shipments, pedometers are still the largest area in the sports and fitness monitor market. This situation will be maintained during the forecast period. But IHS expects that as consumers use smartphones as an alternative, and pedometers are evolving into activity monitors, pedometer shipments will begin to decline.
Activity monitors are supported by brand manufacturers
Due to Nike + FuelBand and other well-known monitors launched by companies such as Adidas, Under Armour, Fitbit, Fitbug, BodyMedia and Jawbone, it is expected that the activity monitor will achieve strong growth. Considering that most manufacturers have entered the activity monitor market in the past two years, and consumers have generally responded well so far, InMedica predicts that shipments of these activity monitors will triple in the next five years.
Good prospects for the Chinese market
Like the sales of sporting goods suppliers in various regions, the sports and fitness monitor market in the Americas and the Europe-Middle East-Africa (EMEA) region presents a similar pattern, with the Americas accounting for 41% of sales, EMEA 42%, and Asia-Pacific 17% . As the Chinese market is expected to grow strongly, the market share of the Asia-Pacific region will rise to 21% in 2017.
If you are looking for AC-DC safety marks Power Supply for recliner massage chair, ZhenHuan Group can help you. We offer the complete Power Supply Adapter transformer solutions with 3 years warranty. All external power supplies are designed to meet international UL CE FCC EMC KC GS RoHS RCM SAA PSE CCC safety standards, also meet the latest energy efficiency Level VI standard.
Power Supply For Massage Equipment
foot massager power adapter,recliner massage chair power adapter,computer cctv massage armchair adapter,massage chair power adapter
Shenzhenshi Zhenhuan Electronic Co Ltd , https://www.szzhpower.com