1 back to top
[PConline evaluation] TCL launched in September this year, smart cloud TV fall new products, this time came to the evaluation room is one of the high-end models - L55V6500A-3D dual-core smart cloud TV. As the high-end series in the second half of the year, the V6500 is inevitably a smart cloud TV. The most important is that it uses a dual-core processor and the system is Android4.0+. Based on polarized 3D, it has developed a "dual-screen display". "Functions, and support for face, gesture recognition and other functions, compared to previous products in the smart function has a longer development, the following to see how this high-end domestic TV performance.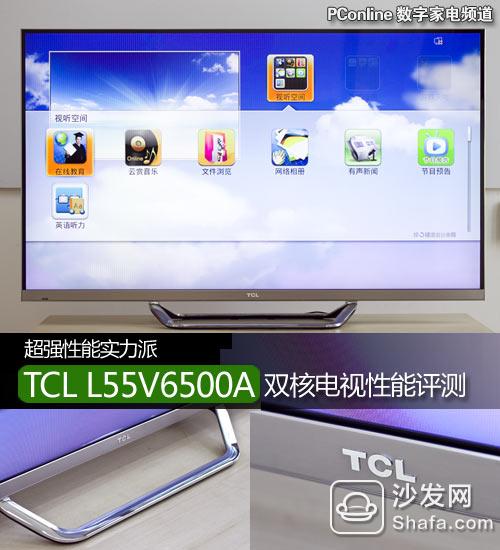 TCL Cloud Screen 2 55V6500A-3D Picture Series Evaluation Forum Quote
On the hardware, the TCL V6500 has also been improved to better run a variety of smart cloud applications. The V6500 uses dual-core 1GHz CPUs and dual-core GPUs, and has built-in 70G of storage space. It is also excellent in current smart cloud TVs.
TCL L55V6500A-3D basic configuration:
The main parameters of TCL L55V6500A-3D
TCL Cloud Screen 55V6500A-3D
Screen size/inch
55
Resolution
1920×1080
Backlight
Side-mounted LED
3D Technology Polarized 3D Image Quality Function Natural Light 3D, Dynamic Contrast Adjustment
Online application platform
Android4.0+
Online video
China Internet TV Main Interface HDMI×2, USB×3 Power/W 150 Weight/kg
29.6kg (including base)
Size/mm
1234.4×798×59mm (without base)
Reference price / yuan 11500 yuan
The appearance of the TCL V6500 adopts a full metal shell. The design with no borders and the base of the ship are quite visible. In terms of picture quality, the V6500 is equipped with a side-mounted LED backlight, uses a polarized 3D display, and uses the HMR960Hz in the double speed technology. From the data point of view, it has an advantage over the previous 240Hz.
Is this TV using dual-core?
TCL V6500 dual-core intelligent cloud TV, as the name suggests, the most important selling point is the use of dual-core CPU and dual-core GPU, the processing capacity than the previous smart TV has been greatly improved. The upgraded hardware performance guarantees smooth operation of the menu interface and smoother operation of 3D somatosensory games, laying the foundation for more functions of the smart TV.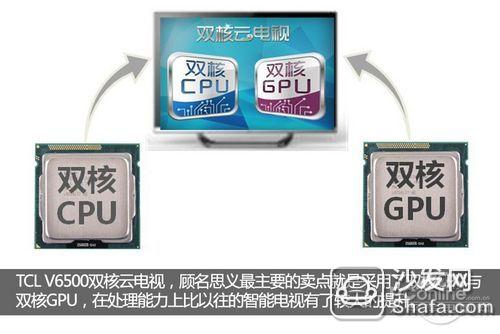 As a smart TV, smart cloud applications are naturally indispensable. The TCL L55V6500A has many intelligent cloud functions, including visual recognition, multi-screen interaction, and you can even use the player to directly take it to karaoke.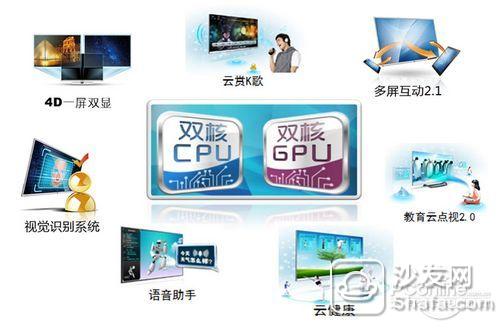 In the face of the ever-increasing operational demands of smart applications, there is no strong processor that cannot be done. The following figure shows the hardware configuration specifications required for the mainstream system and Android system under x86 to run smoothly.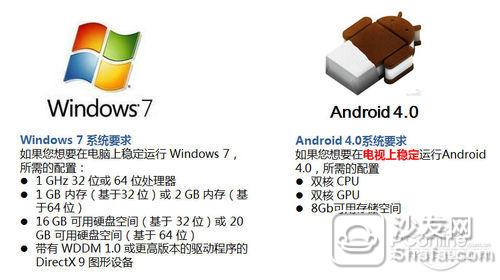 From the above figure, to make the TV run the Android 4.0 operating system perfectly, at least one dual-core processor and one dual-core GPU are needed, and the cache space needs to be about 1GB (1GB is equal to about 8Gb).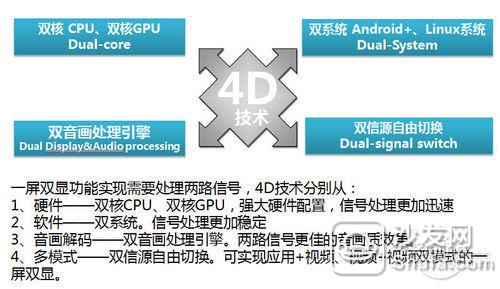 The TCL L55V6500A is equipped with a unique 4D technology that enables it to perfectly support cloud health, smart point reading, smart karaoke, and one-screen dual display. Among them, one screen double display is its biggest selling point.
Equipped with polarized 3D, V6500 uses a better processing hardware based on 3D display technology to achieve the "one screen dual display" function that simultaneously outputs two types of sources. You can output dual-screen output in the form of "application + video" and "video + video" at the same time. By wearing different glasses, you can watch different source images.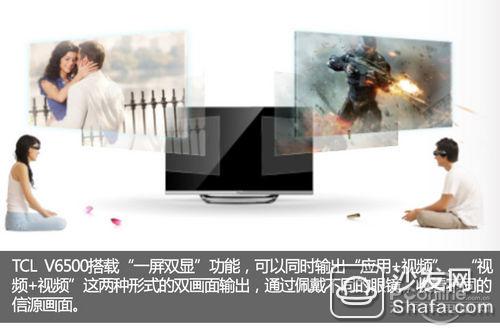 In addition, TCL V6500 also has more intelligent cloud features, such as multi-screen interactive 2.1, smart cloud point of view 2.0, voice assistant, visual recognition system, cool karaoke, etc., to customize different functions for different family members .
Real machine demo Android 4.0+ system
The TCL V6500 uses Android 4.0+ custom-built Android + Linux Dual-System dual system. On the main interface, TCL uses the iconic main interface arrangement. The five shortcut icons, Source Selection, App Store, Browser, Multi-Screen Interaction, Attachment Store, and Message Box, are located at the bottom of the interface.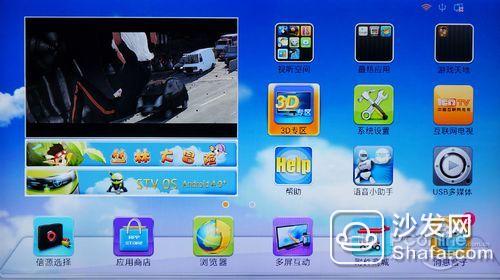 Above are other application icons. There is also a picture-in-picture display of the TV's real-time screen. You can slide the remote control wheel to turn pages. The interface uses full HD resolution display and has a superior dynamic over-effect.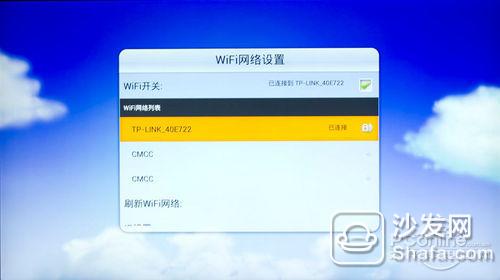 The V6500 has a built-in wifi function that allows you to connect to a wireless network with just a click of a button.
2 back to top
4D dual display function
If a wife wants to watch Korean dramas, what happens if you happen to have an important NBA game? In the case of only one TV, in order not to be beaten, do you still hand over the remote control? In fact, there are ways to achieve the best of both worlds, that is to play a double screen.
One of the most important features of the V6500 is the "4D dual screen display function." This function can realize synchronous real-time viewing of different channels. Only by wearing corresponding glasses, one TV can be realized, two pictures can be viewed at the same time, and two sounds can be heard at the same time. V6500 will provide two polarized glasses that can display different pictures and FM-based wireless audio headsets, so as to realize the need of two people to watch different contents on the same TV, and no longer have to watch TV.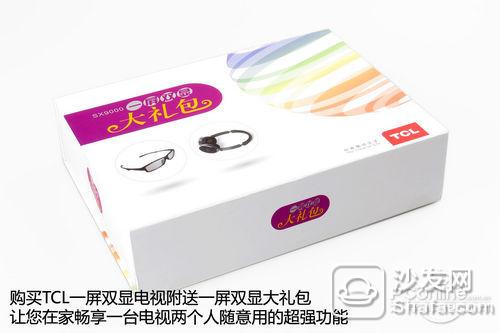 If you purchased a V6500 4D dual-screen TV, manufacturers will come with a dual-screen gift package on the TV. From the perspective of packaging, this guy is still very kind.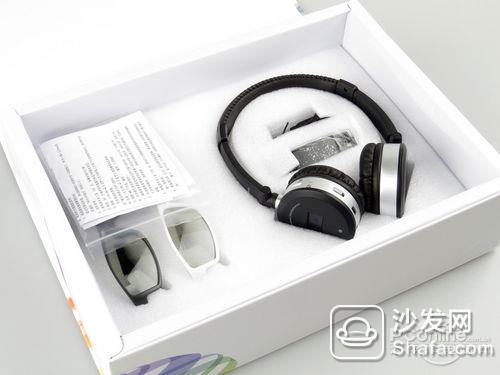 Open the inside and watch it with two pairs of polarized 3D glasses, a wireless high-fidelity stereo headset, and some additional accessories.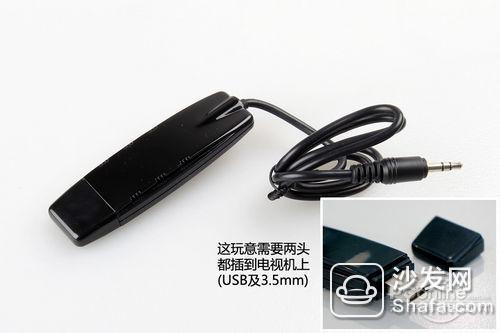 The biggest accessory is this guy. After the USB box cap is opened, it can be inserted into the TV's USB port. Then insert the audio cable into the TV 3.5mm audio output hole and you can use your wireless headphones to listen to the sound of TV programs.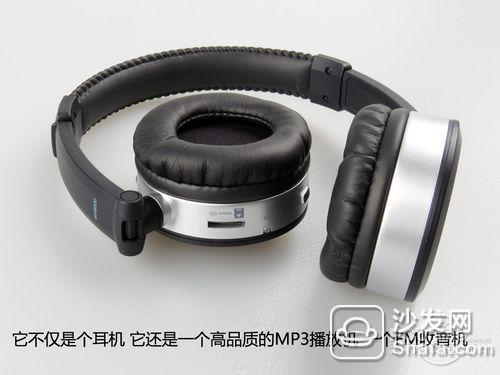 This headset is more than just a wireless headset. Inserting an SD card can also turn it into an MP3 player, and he can also listen to FM radio and use it on multiple occasions.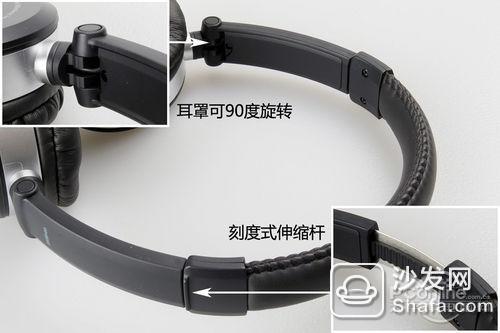 Both the headset headband and the earmuff connection part adopt an adjustable design, so that it can better fit a variety of face users.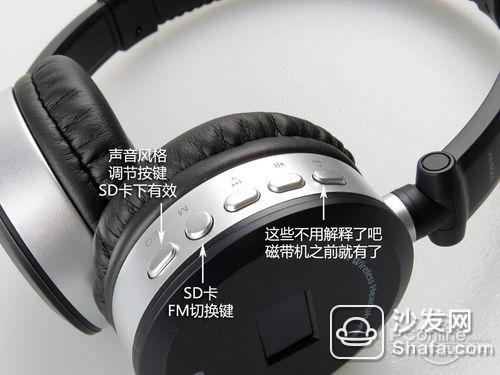 Headphone operation is very simple, and a single function has its own button, so it is easy to play without having to read the manual.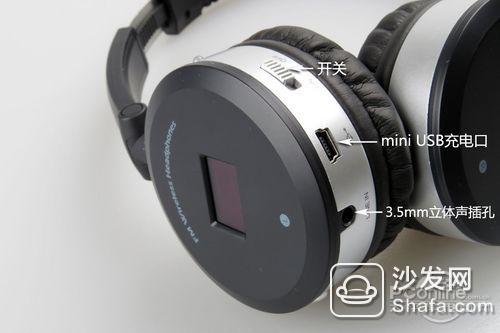 There is also a liquid crystal display on one side of the headset, which allows you to check the working status of the headset. We used more than eight hours in a single charge to announce the exhaustion.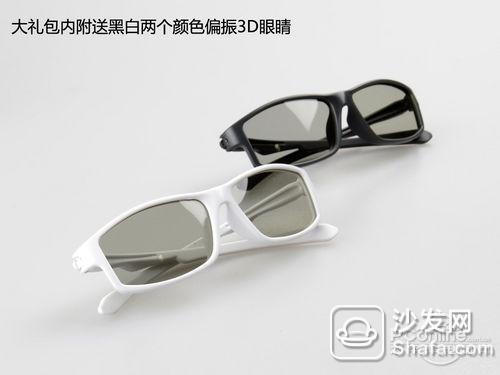 In addition to the two polarized glasses in the TV package, the spree also comes with two polarized glasses. With this V6500, you can have four pairs of polarized glasses. At home, many people can enjoy 3D or one-screen dual display at the same time.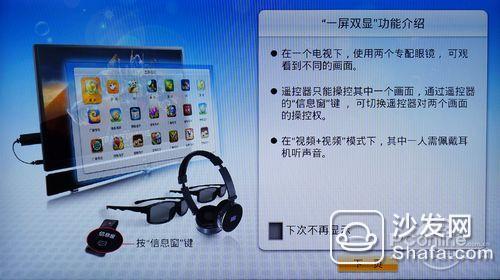 This function was developed based on the principle of polarized 3D. When displaying 3D images, it displays the left and right eyes separately. In the dual display of one screen, two completely different images are displayed separately. In the V6500, we can choose to use the + video, video + video two modes, you can achieve two sources or programs and sources at the same time output, compared to similar products have certain advantages. With the big gift bag, two video sources that do not interfere with each other can be played at the same time (headphone adjustment to FM 87.2MHz).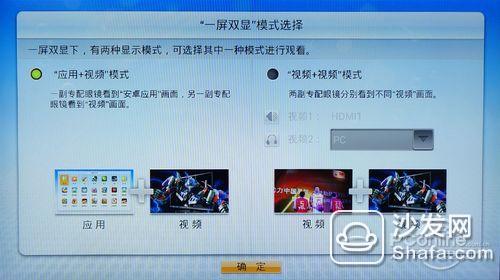 In the "one-screen dual display" display mode, we can see two superimposed screens when we are not using glasses.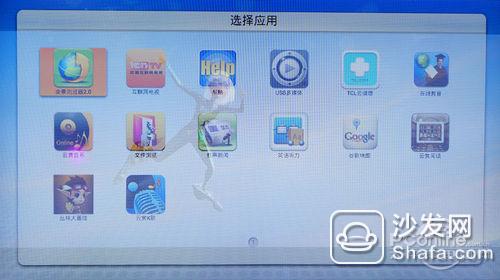 Take a pair of 3D eyes to test. Under normal 3D eyes, the left and right lenses can display different images. On the left is the application program interface, and on the right is the Blu-ray playback screen. Through the glasses, there will be no overlapping screens. The display effect is better.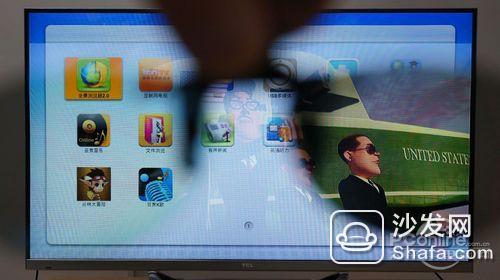 There is also a dual-screen display of USB streaming media + Blu-ray discs. The display process is very smooth. When playing full HD pictures at the same time, the V6500 will not show any phenomenon of stalling. Here we must explain that to achieve a dual-display function, powerful TV hardware performance is essential, V6500 has a dual-core CPU and dual-core GPU, so running such applications is hand-to-hand.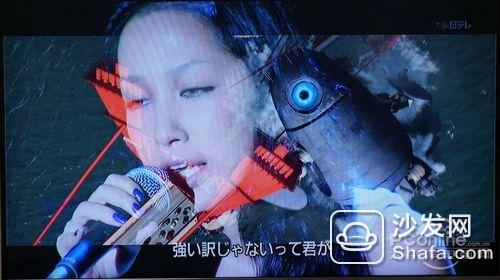 The one-screen dual display function of the TCL V6500 has excellent display effect and does not cause mutual interference. However, the angle of viewing of the glasses is displayed. It is necessary to maintain a horizontal angle with the TV as far as possible to have a better effect. In addition, based on the principle of polarized display, the resolution of the screen also appears to be halved horizontally or vertically.
In the actual test, the quality of the sound quality of the earphone listening within a range of 6m is very good, there is no delay, burr, noise, and in addition, the thick earphone cover can effectively separate the audio information of the other channel and truly achieve each other. Do not interfere with the dual display function.
3 back to top
Dual-core intelligent function trial
Based on the Android system, V6500 has a very good software scalability, let's take a simple trial.
Application store program
There are more resources in the app store, such as Tencent video, Fruit Ninja, Angry Birds, etc.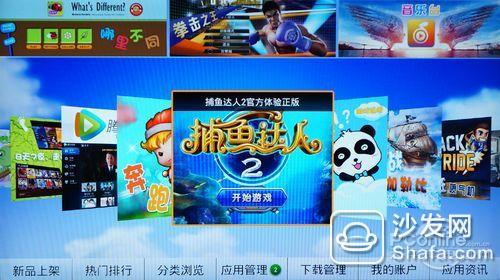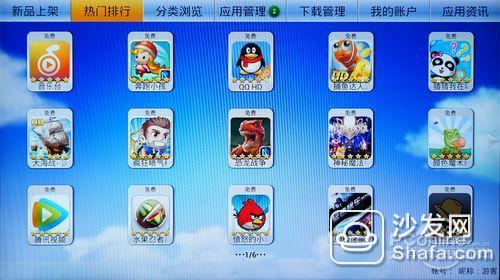 The download process is quite simple, there is an independent download interface, and program management is relatively simple.
Internet TV
The V6500 has built-in Internet TV programs. In addition to this program, third-party online video programs can also be installed. We do not need to worry about resources.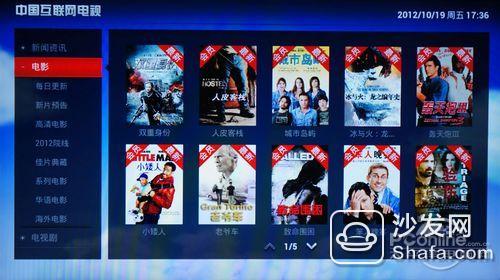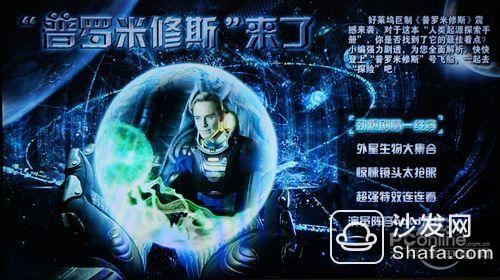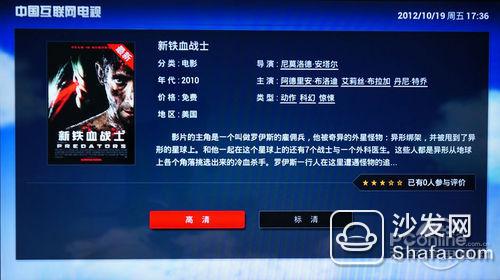 In Internet TV, there is a considerable amount of content available. There are some popular videos that are provided in the form of special topics and have certain visibility.
USB streaming media trial
Streaming media playback has always been a good area for domestic brands. Based on the Android 4.0 system V6500, it can be compatible with common network streaming media formats, and most high-definition video can also be competent. In terms of video format support, the V6500 supports basic formats such as VC1, H.264, MPEG4/2, RMVB, FLV, and SWF.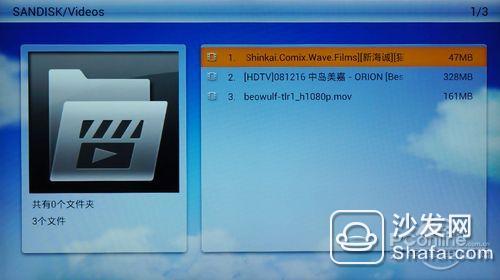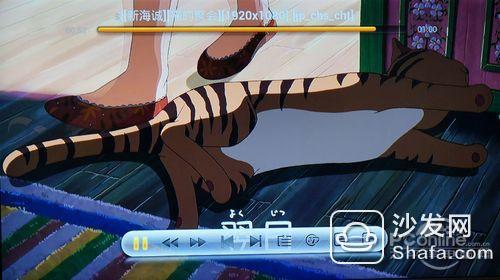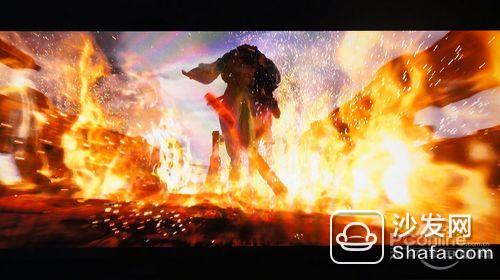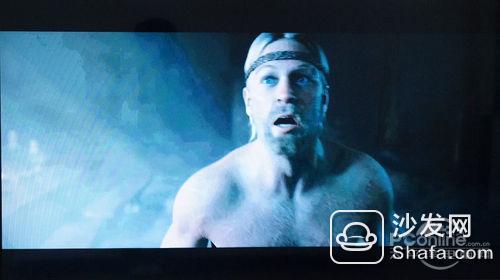 In music playback, V6500 also has good compatibility, can play AC3, MP3, AAC, DTS, DD + and other network music formats, due to the use of a powerful processor, decoding 1080P no pressure, perfect smooth running.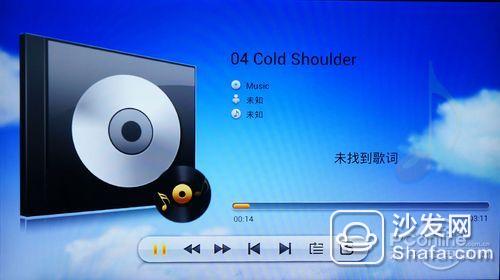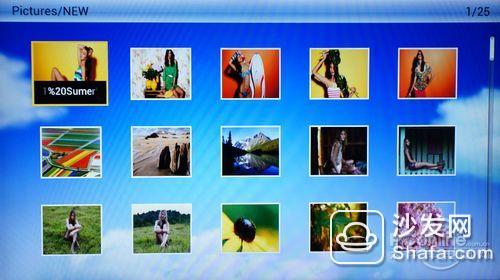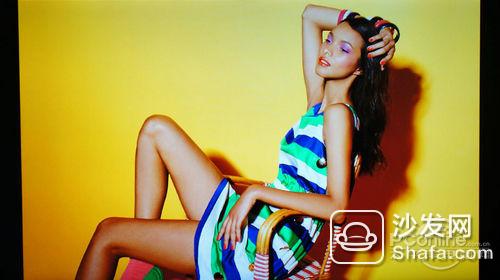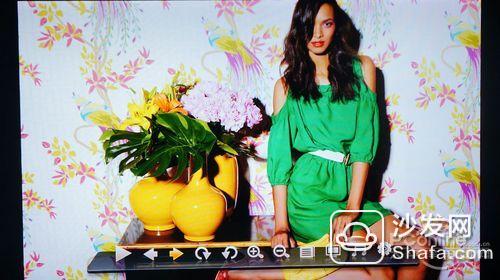 The smooth playback of the picture can also be performed, and the common operations such as zooming in and out can be performed.
Evaluation Room Summary
At present, the price of the 55-inch V6500 is around 1,1,500 yuan, which is consistent with the positioning of high-end LCD TVs. The price of Skyworth E800 and Hisense XT880 is slightly lower. Compared with the Sony HX850, Samsung ES7000, etc., the price is slightly lower, for the pursuit of more localized applications, and users with high-end appearance, is still more suitable.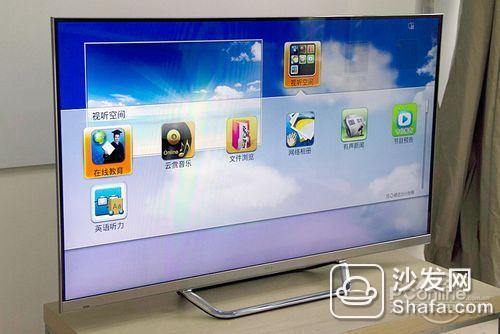 TCL Cloud Screen 55V6500A-3D Picture Series Evaluation Forum Quote
TCL V6500 evaluation pros and cons summary
advantage
Shortcomings
1, dual CPU GPU performance superior;
2, the appearance of high-grade work fine;
3, equipped with a good IPS panel;
4, a dual display function display excellent;
5, Andorroid4.0 + smart system scalability.
1, fewer fine-tuning options
Editor's summary: In general, the product is capable of running smoothly various smart applications due to its powerful hardware configuration (dual-core and dual-GPU 4D configuration). It also needs to mention its one-screen dual display function. Good product performance, so that the young couple no longer have to fight for the remote control and hurt feelings. With smart K songs and point reading, Internet TV and other functions, it can be said that this smart cloud TV is already the best in the market for similar products.
talking bottle opener (Music Bottle opener)
Ningbo AST Industry Co.,Ltd has 17 Years Experiences to produce the Voice Bottle Opener,Musical Win Opener,Talking Bottle Openers and so on.we can assure you of competive price,high quality,prompt delivery and technology supporting.


1. Music Bottle opener Application:
The Voice Keychains are usually used for Celebration,Promotion,Birthday,Holiday,Award Ceremony,Party and so on.Open the bottle ,it will play the music or recorded message or advertising language.

2. Music Bottle opener Classification:
There are Recordable Bottle opener and Musical bottle opener

Recordable Bottle Opener
the Clients can record our own message and playback it .
Recording time:6s,10s,20s etc.

Music Bottle Opener
The audios will be customized.The clients provide the audios,the we programme the audio into the opener ,then it will play the customized audio when we open the Bottle.
3. Sound Quality:Clearly and Loudly

4. Play activated:Open the bottle to play the message automatically

5. Can be printed your logo on it

6. Certification:CE ,Rohs

7. Export to:
USA, UK,Canada,Germany, Turkey,Russia,Poland,Switzerland,Netherland ,Frence Hungary ,Australia,New Zealand, Brazil, Columbia,Argentina,Thainland,Singapore , Malaysia and so on.
Talking Bottle Opener, Musical Bottle Opener, Talking Beer Bottle Opener,Bottle opener
AST Industry Co.,LTD , https://www.astsoundchip.com